Alabama Angus Association
Officers and Directors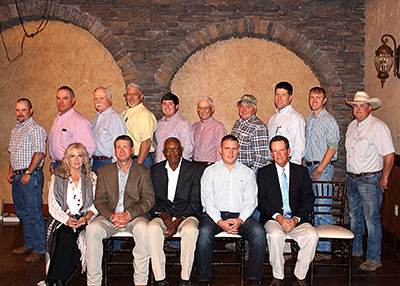 The 2017 Alabama Angus Association Officers and Board of Directors.
Seated from left are 2017 President-Jennifer Lee, Daviston; 1st Vice President-Chris Wisener, Arab; 2nd Vice President-Mr. J.B. Turner, Harvest; Treasurer- Cobie Rutherford, Starksville; Executive Secretary-Mike McGuire, Waverly; and the vacant seat in honor to the late Tim West, 2016 President.
Directors standing from left are Michael Rorex, Bridgeport, AL; Randy Crowell, Elrod, AL; Richard Dyar, Crossville, AL; Len Colvin, Bridgeport, AL; Jay Howard, Oxford, AL; David Osborn, Athens, AL; Robert Williams, Section, AL; Rob Adams, Union Springs, AL; Zane Troxtel, Geraldine, AL; and Craig Bryson, Titus, AL.
Photo by Mark Sims, American Angus Association.
President
Jennifer Lee
Emuckfaw Creek Farm
421 Old Dutch Road
Daviston, AL 36256
256-234-0002
1st Vice President
Chris Wisener
Wisener Angus Farm
5322 CR 1763
Arab, AL 35016
256-586-7795
2nd Vice President
J. B. Turner
Turner Farm
9706 Wall Triana Highway
Harvest, AL 35749
256-722-9077
Treasurer
Cobie Rutherford
986 White Oak Lane,
Starkville, MS 39759
256-476-4676
Executive Secretary
Mike McGuire
McGuire Cattle Company
10767 Hwy 280 W
Waverly, AL 36879
334-703-7111
alaangus@msn.com
Directors
Terms Expire 2018
Randy Crowell
17855 Boyd Road, Elrod, AL 35458
205-826-6737
Michael Rorex
P. O. Box 1046, Bridgeport, AL 35740
256-495-9593
Tandy West
846 CR 26 Centre, AL 35960
256-927-2025
Richard Dyar
1633 CR 104, Crossville, AL 35962
256-659-6305
Terms Expire 2019
Len Colvin
2194 CR 209, Bridgeport, AL 35740
256-548-0809
Jay Howard
615 Bannister Lane, Oxford, AL 36203
256-343-7710
David Osborn
14040 Carter Road, Athens, AL 35611
256-425-8376
Robert Williams
4565 County Road, Section, AL 35771
256-228-6416
Terms Expire 2020
Craig Bryson
Double C Farms, 777 Buck Road, Titus, AL 36080
334-850-4781
John Starnes
TRM, 553 Randy Owen Drive NE, Fort Payne, AL 35967
256-996-5559
Rob Adams
Adams Angus Farm, 678 Highway 51 North
Union Springs, AL 36089
334-202-3454
Zane Troxtel
Troxtel Farms, 12269 AL Highway 227
Geraldine, AL 35974
423-667-2480